MERI engineers presented their reports at ElConRus 2020
07.02.2020
Igor Ermakov and Igor Zubov - leading design engineers of the integrated circuits development department of MERI - participated in the international scientific conference ElConRus 2020.
ElConRus - is an annual Conference of Russian Young Researchers in Electrical and Electronic Engineering. This year it was held at St. Petersburg Electrotechnical University «LETI». The Conference included 12 sections and over 400 presentations.
The conference was held under the aegis of IEEE - the world's largest technical professional organization, the leader in the development of standards for radio electronics, electrical engineering and hardware for computing systems and networks. IEEE includes more than 400 thousand members in 160 countries.
Every year ElConRus unites young scientists and engineers from the whole world who present their reports about past year works as well as current achievements in modern technologies.
According to IEEE standards, to participate in the conference it is necessary to write an article in English which should pass several tests including anti-plagiarism one. Authors are required to make a presentation at the conference. All accepted articles are published in the IEEE Xplore Digital Library.
MERI researcher made three presentations at one of the Conference sections – "Components, Circuits, Devices and Systems". All presentations were prepared in cooperation with colleagues and were devoted to the latest developments and researches of MERI.
Igor Ermakov made two presentation: "An Ultra Low-Power Low-Cost EEPROM for UHF RFID Tags in a Single-Poly 90 nm CMOS Process" and "Design and Study of a 65 Kb AntiFuse OTP ROM in a Standard 0.18 um CMOS Process".
Igor Zubov presented his report "An UHF RFID Tag Design in the 90nm Single-Poly CMOS Process".
The conference program included sections on many modern subjects of scientific research, such as micro- and nanoelectronics, photonics and electrooptics, hardware elements development, electrical engineering, automation and control systems, materials science, biomedical technologies, signal processing and analysis, communications, networks and computers, software and hardware, information protection, product management and technological innovation management.
The organizers and participants of ElConRus 2020 highly evaluated the quality of reports and presentations and underlined the growing attention to the conference.
All participants got the certificates confirming participation in the conference.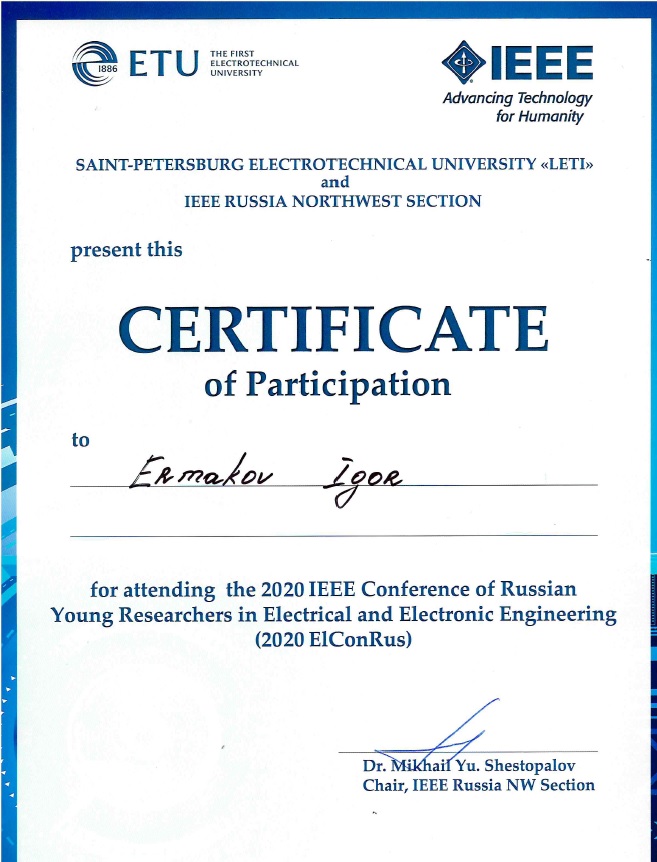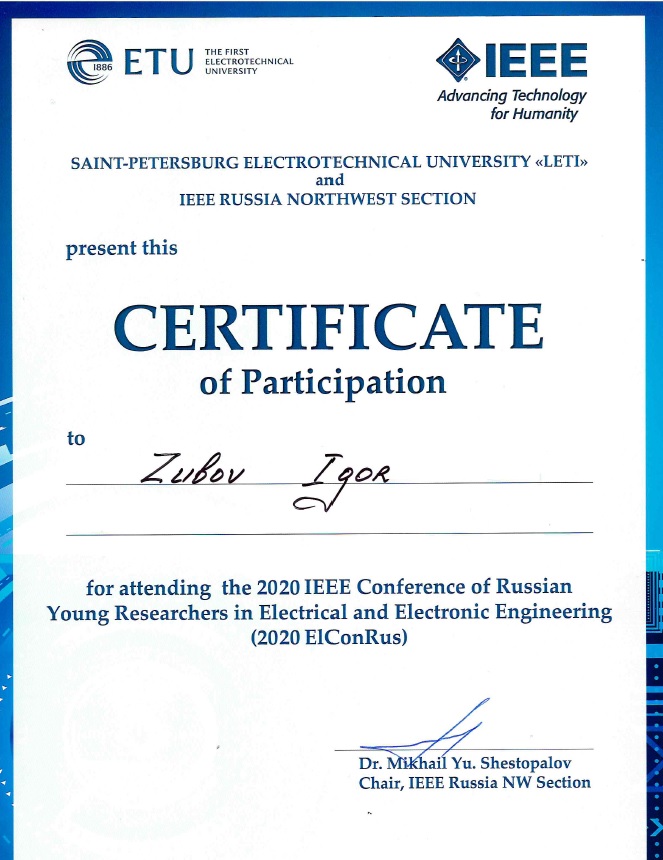 Reference: ElConRus 2020 is Conference of Russian Young Researchers in Electrical and Electronic Engineering that is held under the aegis of IEEE. IEEE sponsors more than 1800 annual conferences and events around the world, offering scientific and technical content in modern technologies.
Other news
---
03/17/2020
A new scientific award named after Kamil Valiev was established
---
03/02/2020
All-Russian theoretical and practical scientific conference was held in Mamadysh
---
12/24/2019
Consortium members reported on the results of the year
---
12/11/2019
Four MERI's employees were awarded the title "Laureates of Russian Government Award in Science and Engineering"