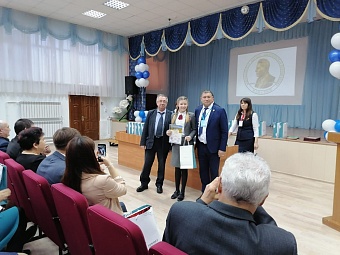 MERI organized the All-Russian Scientific Conference named after academician Valiev
02.03.2020
On February 28, in Valiev Lyceum 2 in Mamadysh of the Republic of Tatarstan, the All-Russian theoretical and practical scientific conference of research, design and creative works was held. The aim of the conference was to stimulate students' interest in intellectual and creative activities, develop their research skills, to study and expand RAS experience.

The conference was organized by National Coordination Centre of the "UNESCO Associated Schools Project Network" (UNESCO ASPNet), Academy of Science of Republic of Tatarstan and Kazan Federal University with the participation of MERI.

The event was attended by students from 1 to 11 grades of general (comprehensive) schools, lyceums, colleges and by teachers and workers of pre-school educational institutions, who had experience in innovative work.

The best works were determined by independent experts from the expert commission. Their authors were rewarded with diplomas of the conference and valuable gifts. The theses were also published in the conference digest.
12 nominations were presented: history and local history, life and scientific work of Kamil Valiev; geography, economics; chemistry, biology and ecology; mathematics, research project in natural mathematics - for students; etc.
The criteria for evaluating the work were: relevance of the tasks, novelty and reliability of the results, level of sophistication in studies and the solution of the problem.

Other news
---
03/17/2020
A new scientific award named after Kamil Valiev was established
---
02/07/2020
Annual Conference of Russian Young Researchers in Electrical and Electronic Engineering was held in St. Petersburg
---
12/24/2019
Consortium members reported on the results of the year
---
12/11/2019
Four MERI's employees were awarded the title "Laureates of Russian Government Award in Science and Engineering"